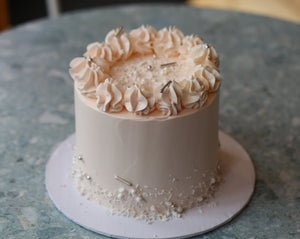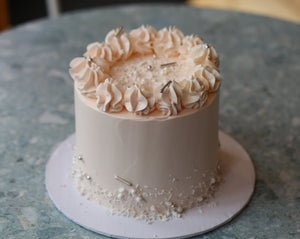 On Sale
Elena Cake
Elena Cake 
Available for curbside pickup in Baltimore, MD only. Order atleast 72 hours in advance from pickup date. 
Description:
This is a 3-layer cake filled as either dulce de leche, strawberry shortcake, vanilla bean, or double chocolate. Decorated with our signature swiss buttercream and sprinkles.
Cake Size: 6 inch or 8 inch
*Order atleast 72 hours in advance of pickup date.*
 CONTAINS: EGGS, DAIRY & SOY
ALLERGY NOTE: We do our absolute best to avoid cross-contamination by thoroughly sanitizing countertops, tools and equipment AND even baking GF products at different times during the day after kitchen has been sanitized.
Although we offer gluten-free options we recommend that you do not purchase our products if you have a severe allergy as all our products are produced in a shared facility that handles eggs, soy, wheat, tree nuts (almonds) and dairy.