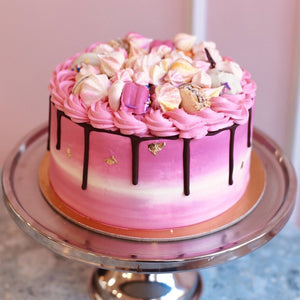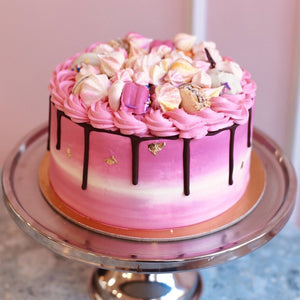 On Sale
COMO LA FLOR CAKE
Como La Flor Drip Cake 
Available for in-store pickup in Baltimore, MD only. Order at least 72 hours in advance from pickup date and time. 
Description:
This is a 3-layer cake available in the following flavors:
Dulce de Leche: A vanilla sponge cake filled with Dulce de Leche and pastry cream filling. 
Decorated with Swiss Merengue Buttercream, alfajores, merengues and a chocolate drip.
Cake Size: 6 inch, 8 inch or 10 inch 
Dry/Moist Level: Moderately Moist
*Order atleast 72 hours in advance of pickup date.*
Allergies: Although we offer vegan, dairy-free, egg-free and gluten-free options we recommend that you do not purchase our products if you have a severe allergy as all our products are produced in a facility that handles eggs, wheat, tree nuts (almonds) and dairy. We do our best to avoid cross-contamination by thoroughly sanitizing countertops, tools and equipment.
If you have an allergen please designate this in the Special Instructions box so that our team can prepare your order accordingly.